Eric Thompson

Eric Thompson is perhaps, now best known as the father of actresses Emma and Sophie Thompson. He was born on the 9th of November 1929 in Sleaford, Lincolnshire. He trained as an actor at the London Old Vic School and in 1952 he joined the company where he met his future wife, actress Phyllida Law.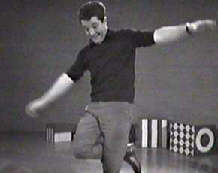 Eric was a regular presenter for Playschool during the 60's and you can download his rendition of The Grand Old Duke of York here. (It's an AVI file - 1.1Mb). He was also a founder member of the Royal Exchange Theatre in Manchester and he directed many plays. Sadly he died in 1982.
Eric Thompson brought us the Magic Roundabout stories, which he originally wrote from his cottage in Argyll. He renamed the characters, and was responsible for Dougal's sarcasm and Ermintrude's wit. He created the stories by watching Danot's shows (without the soundtrack). It's been really difficult getting information about Eric the best insight is provided by Phyllidia, Emma and Sophie Thompson's introduction to The Adventures of Dougal, which is reproduced below:-
Introduction
"We have dedicated this book to Ernie James Lumsden, the author's first grandchild, aged one as we write, and already reading in the bath. His grandfather did this too, but it must be admitted that he was never much interested in reading to his two daughters. The trouble was that his daughters really wanted him to read to them because he had a particularly lovely voice and smelt very comforting. They would choose Pigling Bland which had lots of words in it, but he insisted on Miss Moppet which had exquisite pictures but about three words on each page. Obviously this bred a great deal of resentment which he ignored.
When the BBC asked him to write The Magic Roundabout they lent him a machine with a tiny screen which he used to work with his feet. He wathced the pictures without sound and wrote the script with a pencil and pad balanced on his knees. The stories had originally been written in French, but he didn't much like the French, so he changed it all - even the names, like Ermintrude the cow, who was inspired by his wife.
He thought Brian the snail was most like him - very optimistic and irritating. This was true, because before school in the morning when his daughters were still asleep he would appear in a revolting brown dressing-gown at their bedroom door and wake them by singing cheerfully:
Good morning, good morning,
We danced the whole night thru',
Good morning, good morning to you.
This was very irritating indeed.
Once a lady wrote to him complaining that he used too many long words in The Magic Roundabout and how were children meant to understand them? He got out The Oxford English Dictionary and wrote back using all the longest and most difficult words he could find, like 'palimpsest' and 'oxymoron' (which sounds rude but isn't). He also wrote a strongly worded letter to a mother who had smacked her little boy for calling his sister a 'mollusc'.
He held serious conversations with babies in prams because he said they had to start somewhere. They were not to be patronised because they were little and hadn't lived as long as he had. All in all the author was quite badly behaved for his age. He hid chocolate all over the house and went to work in America just so that he could eat 'hot dogs' and 'knickerbocker glories'. His favourite food was fish and chips out of a newspaper, preferably the Daily Mail of which he did not approve. He preferred The Times but only for the crossword. he would have given Ernie a passion for cricket and football and might even have lent him his golf clubs. He would certainly have taken him fishing in Scotland and taught him to find 'docken-grubs' and worms for bait. He would have woken him up in the middle of the night, when the river was swelling with torrential rain and taken him out to dig up worms and talk to toads who were doing the same. On frosty nights they would have lain on their backs with binoculars and looked up at the stars.
He had a country boy's wicked eye for a bird's nest and the glinting back of a water rat or an otter. He reared a family of 'hedgepigs' in his London garden but he didn't approve of dogs in town so he had a cat called boot and a canary called Buxton. His favourite film stars were Clint Eastwood, Buster Keaton and Tom and Jerry.
We think he would have read to his grandson any hour of the day or night. Probably Dickens. It's a pity he can't, but at least Ernie will have his books."
Phyllida, Emma and Sophie Thompson
February 1998
Taken from
If you have any additional info. on Eric please mail me at ctipps@freeuk.com.


| | |
| --- | --- |
| | |
| Roundabout Index | Home |