to Crystal Tipps
Magic Roundabout Pages
Please bookmark this page.
UPDATE


Sorry for the chaos whilst all the Roundabouters moved house. All the links should now be working, if any aren't, please let me know by leaving a message with Dougal. Thanks.
NEWS!!!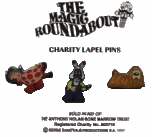 Magic Roundabout lapel pins (bigger than shown) are on sale in W.H.Smith. They're being sold in aid of The Anthony Nolan Bone Marrow Trust (to help leukaemia sufferers) for a minimum donation of £1 each. Alternatively you can buy a complete set of 9 in a presentation box for £10 (which includes P&P) from: Anthony Nolan Marketing Ltd, London, NW3 2NT or you can call them on 0171-284-1234.



You can pre-order Eric Thompson's book 'Dougal and the Blue Cat' (release date 23/9/99) at Amazon.
You can get it from them at a discount by clicking here.




An introduction to the characters:
Includes a potted biography of the main characters, with links to transcripts of episodes
and pages of quotes.
NEW Pictures of the characters
| | |
| --- | --- |
| | |
| Dougal Pics | Dylan Pics |
| | |
| Ermitrude Pics | Others & Group Pics |
Games & Puzzles
(JavaScript only - sorry)
More to be added soon.
.


Whenever you click this pic
it will return you to this page.


and this pic will return you to
to the main index.
Have fun....